the new member of the Spanish National Team



A LITTLE BIT ABOUT ME
As you already know, my name is Musa, I am the new member of the Spanish National Team family, and I would like to tell you in a few lines a little about who I am and where I come from.
November 2 is a very special date for me since it is my birthday, I really want to celebrate my first! So is Villa del Río, the town of Córdoba where I have lived my first 4 months of life and have taken my first steps.
WHY ME?
Surely the first thing you will have wondered is why I would be the talisman of the Selection when there are so many animals and so many breeds of dogs. The answer is easy: I am lucky to be Spanish!
It should be remembered that one of my purposes is to raise awareness about the importance of companion animals and their care, a problem that has worried us for years. Water dogs stand out for our unique coat of hair and the
MEET THE PDAE A SPANISH BREED
The Spanish water dogs (Spanish Water Dog) we are known
for having a cheerful, faithful and brave character. Also, you will recognize us
easily for being of a medium size and having a dense hair,
woolly and curly, one of our most identifiable and attractive traits
(I'm not saying it, you say it!). We also have a reputation for
have an amazing intelligence, being beautiful outside and inside.
MY CARE
This part is my favorite, in which I can express myself and talk about what I know: our care.
Here I explain my routine and my favorite products:
We moisten the coat and apply BABY SHAMPOO made with mild surfactants, ideal for puppies (like me) and sensitive skin. We squeeze the curl so as not to lose my definition, avoiding rubbing so that you do not create tangles.
I recommend rinsing with plenty of lukewarm water.
MY MESSAGE
As the standard-bearer for all Spanish dogs, I have a message to convey to you: we are one more member of your families and that implies responsibility, education, care and, ultimately, ensuring our well-being.
Let's get it all together!
For this to be possible, we have to do everything in our hands and feet to sensitize the population and correctly inform about the care and value that companion animals bring to society.
MY PHOTOS WITH THE SPANISH NATIONAL TEAM
UPCOMING EVENTS OF MUSA AND LA ROJA
Últimos post de musa
In this article we explain why your dog may get a dry nose and we also give you some recommendations on how to prevent this from happening.

Read more »

Holidays with your dog are a real treat, but you need to know how to go about planning your trip. This article has all the keys

Read more »
if you want the latest news about me
FOLLOW ME ON SOCIAL MEDIA
MY FAMILY
During this vital adventure, the brothers Alex and Edu, current CEO of the ARTERO company, will take care of me and teach you everything there is to know about the care and well-being of companion animals.
They will do it in the province of Barcelona (and wherever necessary) since many challenges and trips await me with the National Team and with Artero.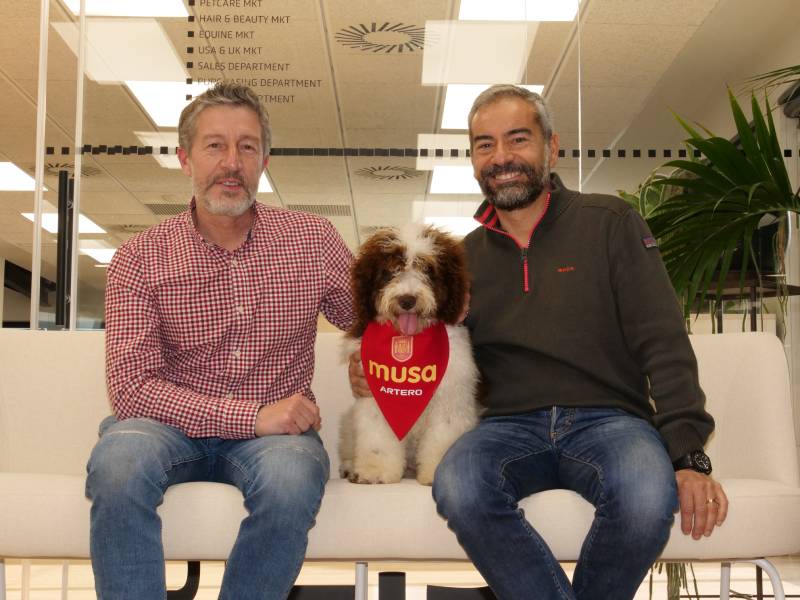 I am definitely very happy to be surrounded by the promoters of commitment to dog welfare and grooming. They support me and give me strength to make this purpose possible, and you?
You are all summoned for the adventures that are to come. Welcome and thanks for forming a great team together with Artero and the Spanish National Team.
THANK YOU FOR BEING BY MY SIDE, AND SHARING WITH ME ALL THE ADVENTURES THAT ARE ABOUT TO ARRIVE NEXT TO ARTERO AND LA ROJA